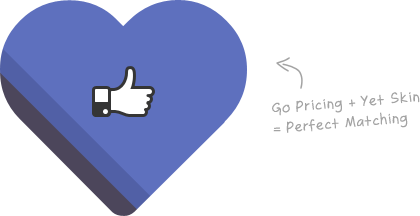 Dedicated Demo Tables
Yet Skin is a handy and customisable Add-on.
We have created some dedicated pricing tables for the most popular WordPress themes, including Avada, Divi, X and Jupiter.
The Go Pricing plugin works with any WordPress themes. Let us show you how it's design matches perfectly to your favorites.
ALL THEMES

ALL PLUGINS

PSDS

HTML TEMPLATES

24/7 SUPPORT
ALL THEMES

ALL PLUGINS

PSDS

HTML TEMPLATES

24/7 SUPPORT
ALL THEMES

ALL PLUGINS

PSDS

HTML TEMPLATES

24/7 SUPPORT
ALL THEMES

ALL PLUGINS

PSDS

HTML TEMPLATES

24/7 SUPPORT
DOLORE FIXUM

TE SOLET

SVINI LIK

BELE TOLOM

CORA KAROD
ALL THEMES

ALL PLUGINS

PSDS

HTML TEMPLATES

24/7 SUPPORT
ALL THEMES

ALL PLUGINS

PSDS

HTML TEMPLATES

24/7 SUPPORT
ALL THEMES

ALL PLUGINS

PSDS

HTML TEMPLATES

24/7 SUPPORT
ALL THEMES

ALL PLUGINS

PSDS

HTML TEMPLATES

24/7 SUPPORT
ALL THEMES

ALL PLUGINS

PSDS

HTML TEMPLATES

24/7 SUPPORT
ALL THEMES

ALL PLUGINS

PSDS

HTML TEMPLATES

24/7 SUPPORT
DOLORE FIXUM

TE SOLET

SVINI LIK

BELE TOLOM

CORA KAROD
ALL THEMES

ALL PLUGINS

PSDS

HTML TEMPLATES

24/7 SUPPORT
ALL THEMES

ALL PLUGINS

PSDS

HTML TEMPLATES

24/7 SUPPORT
ALL THEMES

ALL PLUGINS

PSDS

HTML TEMPLATES

24/7 SUPPORT
ALL THEMES

ALL PLUGINS

PSDS

HTML TEMPLATES

24/7 SUPPORT
ALL THEMES

ALL PLUGINS

PSDS

HTML TEMPLATES

24/7 SUPPORT
ALL THEMES

ALL PLUGINS

PSDS

HTML TEMPLATES

24/7 SUPPORT
32 GB Storage

Unlimited Users

15 GB Bandwidth
80 GB Storage

Unlimited Users

20 GB Bandwidth
100 GB Storage

Unlimited Users

50 GB Bandwidth
Unlimited Storage

Unlimited Users

Unlimited Bandwidth
Supported projects

Amount of space

Supported users

Allowed bandwidth

Security enabled

24 hours support

Retina display
5 Projects

15 GB Storage

Limited Users

10 GB Bandwidth

Enhanced Security

Retina Display Ready
10 Projects

32 GB Storage

Unlimited Users

15 GB Bandwidth
20 Projects

80 GB Storage

Unlimited Users

50 GB Bandwidth
Unlimited Projects

Unlimited Storage

Unlimited Users

Unlimited Bandwidth
Item #1

Item #2

Item #3

Item #4

All Items
Description

Description

Description

Description

Description
Subtotal:

Discount:

Shipping:

Tax:

Your Total:
$1.00

$2.00

$3.00

$4.00

$10.00
5 Projects

5 GB Storage

Unlimited Users

10 GB Bandwith
10 Projects

15 GB Storage

Unlimited Users

20 GB Bandwith
15 Projects

30 GB Storage

Unlimited Users

50 GB Bandwith
30 Projects

100 GB Storage

Unlimited Users

150 GB Bandwith
Unlimited Projects

Unlimited Storage

Unlimited Users

Unlimited Bandwith
5 Projects

5 GB Storage

Unlimited Users

10 GB Bandwith
10 Projects

15 GB Storage

Unlimited Users

20 GB Bandwith
15 Projects

30 GB Storage

Unlimited Users

50 GB Bandwith
30 Projects

100 GB Storage

Unlimited Users

150 GB Bandwith
Unlimited Projects

Unlimited Storage

Unlimited Users

Unlimited Bandwith
5 Projects

5 GB Storage

Unlimited Users

10 GB Bandwith
10 Projects

15 GB Storage

Unlimited Users

20 GB Bandwith
15 Projects

30 GB Storage

Unlimited Users

50 GB Bandwith
5 Projects

5 GB Storage

Unlimited Users

10 GB Bandwith
10 Projects

15 GB Storage

Unlimited Users

20 GB Bandwith
15 Projects

30 GB Storage

Unlimited Users

50 GB Bandwith
Fabulas errors expetes eum, eu has illud deniqe scripit.

Access to All Themes

Perpetual Theme Updates

Premium Support

Access to All Plugins

Layered Photoshop Files

No Yearly Fees
To nec vocibus ceteros digni sim menadi perse quris.

Access to All Themes

Perpetual Theme Updates

Premium Support

Access to All Plugins

Layered Photoshop Files

No Yearly Fees
Fabulas errors expetes eum, eu has illud deniqe scripit.

Access to All Themes

Perpetual Theme Updates

Premium Support

Access to All Plugins

Layered Photoshop Files

No Yearly Fees
To nec vocibus ceteros digni sim menadi perse quris.

Access to All Themes

Perpetual Theme Updates

Premium Support

Access to All Plugins

Layered Photoshop Files

No Yearly Fees
Fabulas errors expetes eum in, eu has illud scripit.

Access to All Themes

Theme Updates

Premium Support

Access to All Plugins

Layered Photoshop Files

No Yearly Fees
To nec vocibus ceteros dignisim enim quris.

Access to All Themes

Theme Updates

Premium Support

Access to All Plugins

Layered Photoshop Files

No Yearly Fees
Fabulas errors expetes eum in, eu has illud scripit.

Access to All Themes

Theme Updates

Premium Support

Access to All Plugins

Layered Photoshop Files

No Yearly Fees
To nec vocibus ceteros dignisim enim quris.

Access to All Themes

Theme Updates

Premium Support

Access to All Plugins

Layered Photoshop Files

No Yearly Fees
Fabulas errors expetes eum in, eu has illud scripit.

Access to All Themes

Theme Updates

Premium Support

Access to All Plugins

Layered Photoshop Files

No Yearly Fees
To nec vocibus ceteros dignisim enim quris.

Access to All Themes

Theme Updates

Premium Support

Access to All Plugins

Layered Photoshop Files

No Yearly Fees
Fabulas errors expetes eum in, eu has illud scripit.

Access to All Themes

Theme Updates

Premium Support

Access to All Plugins

Layered Photoshop Files

No Yearly Fees
To nec vocibus ceteros dignisim enim quris.

Access to All Themes

Theme Updates

Premium Support

Access to All Plugins

Layered Photoshop Files

No Yearly Fees
Fabulas errors expetes eum in, eu has illud deniqe.

Access to All Themes

Theme Updates

Premium Support

Access to All Plugins

Layered Photoshop Files

No Yearly Fees
To nec vocibus ceteros dignisim enim quris.

Access to All Themes

Theme Updates

Premium Support

Access to All Plugins

Layered Photoshop Files

No Yearly Fees
Fabulas errors expetes eum in, eu has illud deniqe.

Access to All Themes

Theme Updates

Premium Support

Access to All Plugins

Layered Photoshop Files

No Yearly Fees
To nec vocibus ceteros dignisim enim quris.

Access to All Themes

Theme Updates

Premium Support

Access to All Plugins

Layered Photoshop Files

No Yearly Fees
Fabulas errors expetes eum in, eu has illud deniqe.

Access to All Themes

Theme Updates

Technical Support

Access to All Plugins

Layered Photoshop Files

No Yearly Fees
To nec vocibus ceteros dignisim enim quris.

Access to All Themes

Theme Updates

Technical Support

Access to All Plugins

Layered Photoshop Files

No Yearly Fees
Fabulas errors expetes eum in, eu has illud deniqe.

Access to All Themes

Theme Updates

Technical Support

Access to All Plugins

Layered Photoshop Files

No Yearly Fees
To nec vocibus ceteros dignisim enim quris.

Access to All Themes

Theme Updates

Technical Support

Access to All Plugins

Layered Photoshop Files

No Yearly Fees
Fabulas errors expetes eum in, eu has illud deniqe.

Access to All Themes

Theme Updates

Premium Support

Access to All Plugins

Layered Photoshop Files

No Yearly Fees
To nec vocibus ceteros dignisim enim quris.

Access to All Themes

Theme Updates

Premium Support

Access to All Plugins

Layered Photoshop Files

No Yearly Fees
Fabulas errors expetes eum in, eu has illud deniqe.

Access to All Themes

Theme Updates

Premium Support

Access to All Plugins

Layered Photoshop Files

No Yearly Fees
To nec vocibus ceteros dignisim enim quris.

Access to All Themes

Theme Updates

Premium Support

Access to All Plugins

Layered Photoshop Files

No Yearly Fees